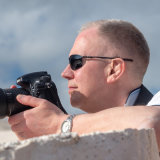 Alan's photographic practice is eclectic; his over-riding objective lies in exploring his feelings and reactions to the world around him through his images.
Alan is drawn to the realistic and straightforward representation of landscape in its broadest sense - natural and urban. Capturing atmosphere and emotion is important; what he feels as well as what he sees. He is also drawn to long-exposure techniques, finding that the simplicity achieved by stripping out much of the detail can contribute to expressing feeling.
A member of both London Independent Photography and City of London & Cripplegate Photographic Society, Alan's images have been selected for group exhibitions with both. He has also exhibited with the Royal Photographic Society London Region and others.
Alan became an enthusiastic underwater photographer after learning to scuba dive in 1998, and was an active member of the British Society of Underwater Photographers for several years. He still goes scuba diving, but since the end of 2016 no longer take a camera along.
As a largely self-taught photographer, Alan acknowledges his gratitude to the professional photographers whose workshops he has attended over the years, as well as to other photographers who have generously shared their knowledge and enthusiasm.
Alan is a born and bred Londoner, now living in the inner suburbs of south east London.
(Image courtesy of Jean Jameson)