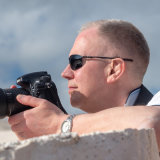 Thank you for visiting my website and looking at my photos!
I am a Londoner, raised at the Elephant & Castle, now living in the inner suburbs of south east London.
Since my late teens I have carried a camera with me much of the time, photographing my travels around the world, my friends, and family events. My interest in photography became more (technically) serious in the 'noughties', kindled by an enthusiasm for scuba diving and an inevitable desire to photograph my new travels in the underwater world.
Alongside taking photographs underwater, I also became a keen landscape photographer with a particular interest in long exposure land and seascapes, as well as minimalist black and white photography.
This led to experimenting in other genres of photography, which in turn led to a desire to learn more about the context and practice of photography and photographers, past and contemporary.
Although I still scuba dive, I no longer take a camera with me underwater.
My focus is now on developing a personal voice and my creative practice.
(Image courtesy of Jean Jameson)